Personalized Albums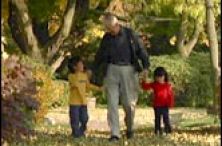 Objective:
Introduce a long-awaited imprintable photo album that will boost market position for the world leader in scrapbooking.
Features:
This two-minute product introduction brought tears, cheers and a standing ovation from thousands of Creative Memories sales consultants as the big screen filled with perfect images to kick off the Persona™ line of imprintable photo albums.

In a crowding field of suppliers, Creative Memories leads the scrapbooking industry with distinctive communications to its sales force of 70,000 consultants worldwide.

David simply "got lucky" with a perfect day of autumn sunshine. But the casting, location, direction, voice and post production are the result of a lifetime of knowledge and experience the producer brings to every assignment.
Credits:
David Klassen, producer, director, editor, voice. Darren Lazarre, steadycam. QuarterTon, line producers. Undertone Music, original score.