Home Class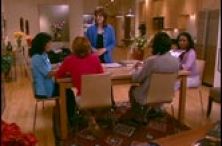 Objective:
Train new recruits to gather potential customers and introduce them to scrapbooking -- Creative Memories style.
Features:
Home Class can be a terrifying two hours for new recruits facing potential customers for the first time. This two-hour DVD details what new sales consultants need to know about selling Creative Memories products successfully.

Now, here's a twist: The trainer in the video is a real Creative Memories Consultant making her first appearance on-camera. The four-person audience is made up of professional actors. It worked! Thanks to a great location and crew, assembled by by Message In Motion.
Credits:
David Klassen, producer, director, post production. Videography, Steve Van Osdale and Mark Hentges. Editor, Mike Gitler. DVD menu and design, In-Source Media. Foreign language translation, Language Solutions.