Lean Manufacturing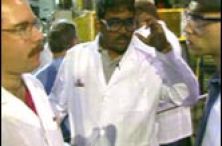 Objective:
All manufacturers are familiar with the challenges of driving
out cost and making complicated operations run as efficiently as possible. This video describes "Kaizen", a critical analysis of a specific manufacturing site at Tower Automotive.
Features:
A walking interview amid the din of huge presses and welding
robots in the background, plus an energetic edit of a group meeting, communicate the urgency of the company's commitment to quality.
Credits:
David Klassen, writer, producer, director, editor. Camera, Mike
Gitler and Roger Haggart. Original score, Undertone Music.