Values Based Leadership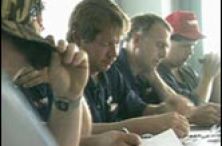 Objective:
This video samples thought among 11,000 global colleagues at Tower Automotive and explains why Values Based Leadership has worked as the strategy for the company's phenomenal growth.
Features:
Factories are my favorite. Creative lighting on the interview
subjects as well as the manufacturing floor gives an emotional punch to the on-camera statements of people who are delivering very personal thoughts surrounded by a very mechanical environment.
Credits:
David Klassen, writer, producer, director, editor. Camera, Mike
Gitler. Orginal score, Undertone Music.