Staff Orientation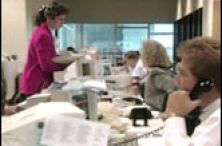 Objective:
This important video gets new hires off to a good start at
hundreds of the client's locations in the U.S., part of a two-day
orientation program filled with essential communication on video. Video helps sprawling enterprises show workers their entire company.
Features:
Shooting in multiple locations puts extra pressure on the budget of a video project and requires critical lighting to make sure distant offices of the same company look similar. This project delivered a strong, attractive thread of continuity through Dain's many operations, and it came in under budget.
Credits:
David Klassen, writer, producer, director. Camera Mike Gitler,
Steve VanOsdale.