Sexual Harassment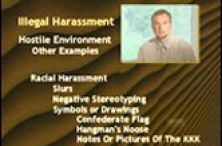 Objective:
Mandated training for North American colleagues of Tower
Automotive, a tier-one automotive supplier, to reduce incidence of all types of harassment in the workplace.
Features:
Non-professional talent, attorneys representing the client, were
trained on teleprompter and brought to a level of proficiency on location.
Credits:
David Klassen, producer, director, editor. Camera, Roger Haggart.