Direct Sales Message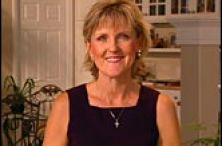 Objective:
Improve timely communication between a fast-growing direct sales company and it's consultants worldwide.
Features:
Rhonda Anderson, co-founder of Creative Memories, justifiably commands the respect of 70,000 sales consultants worldwide. Like many executives, her schedule is unforgiving.

As the crew sets lights and two cameras with prompters in her living room, Rhonda finishes a conference call, steps off the treadmill and delivers 15 minutes of script almost flawlessly -- with subtle coaching from David Klassen.

Working with executives, David's energy and experience come through every time on location. He's respectful of schedules but tenacious about quality.

David Klassen brings a lifetime of knowledge and experience to the most challenging video projects and delivers results you need.
Credits:
David Klassen, producer, director, editor. Andy Olson Videography.