CAT Lexion Music Video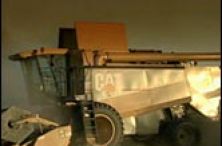 Objective:
Meeting opener. Trade fairs. CAT-sponsored events in target
markets.
Features:
Dramatic scenes of the brightly-colored Lexion combine move
viewers through the harvest of corn, rice, wheat and soybeans in North America. The score became so popular that a complimentary CD was given with purchase.
Credits:
David Klassen, producer, director, editor. Original score, Undertone Music.