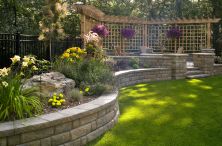 Objective:
Reach homeowners who want to build their own retaining wall.
Features:
Still photos – plus vigorous music, tight copy and the voice of David Klassen – come together in this national :30 spot for Anchor Wall Systems. Encoding stills for broadcast TV (HD 1920 x 1080) is no picnic, but David put the client's message In motion on deadline and on budget.
Credits:
Photos provided by Nancy Johnson, Anchor Wall Systems. Writer, producer, editor and voice – David Klassen.