Dura Automotive Systems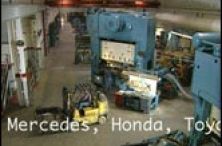 Objective:
Establish a new, stronger position in the tier-one automotive
manufacturing market following a series of successful acquisitions and the renaming of Dura Automotive Systems.
Features:
CEO Karl Storrie speaks to a gathering of Dura employees and
three cameras to answer logical questions asked by the marketplace. Project completed in 19 days. Translation to six languages and distribution to 10 countries on critical deadline.
Credits:
David Klassen, writer, producer, director. Camera, Roger Haggart. Original score, Undertone Music. Translations, Language Solutions. Animation, Eye-Candy, Insight Communications.