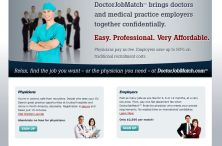 DoctorJobMatch™
http://doctorjobmatch.com
Objective:
Introduce DoctorJobMatch.com – featuring discreet job searches for physicians and very affordable job posting for employers.
Features:
Clean design. Multiple databases. On-line account set-up. SSL. Custom admin tool allowing easy updates.
Credits:
Writer, producer, project administration – David Klassen. Design – D23 Design. Architecture and development – InSource Media.