CAT Lexion Combine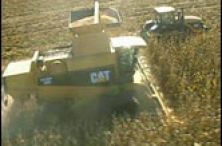 Objective:
The joint manufacturing effort of Claas (Germany) and
Caterpillar introduced an exciting, new combine for North American growers of wheat, corn, soybeans and rice.
Features:
The opening stresses weather and breakdown - two critical
elements in a farmer's plight to bring in the harvest. Their size requires combines to be shot from the air or long-distances with extreme focal length. Miss a shot in these huge fields and you'll wait 40 minutes for the driver to complete his pass and come around again. "Harvesting demands performance."
Credits:
David Klassen, writer, producer, director with editing assistance
from Mike Gitler. Camera Steve VanOsdale and Phil Renault. Animation, Bonn, Germany. Original score, Undertone Music.