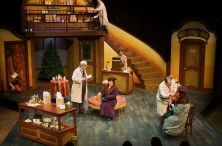 Objective:
A professional theatre company facing considerable odds wins the hearts, minds and wallets of its patrons in rural Lanesboro, Minnesota.
Features:
Stage performance and interviews in 1920 x 1080 broadcast-quality HD. From the Hungarian play by Miklos Laszlo, December, 1937, Hammerschmidt's "Parfumerie".
Credits:
Producer/Editor: David Klassen. Camera, Mike Gitler.